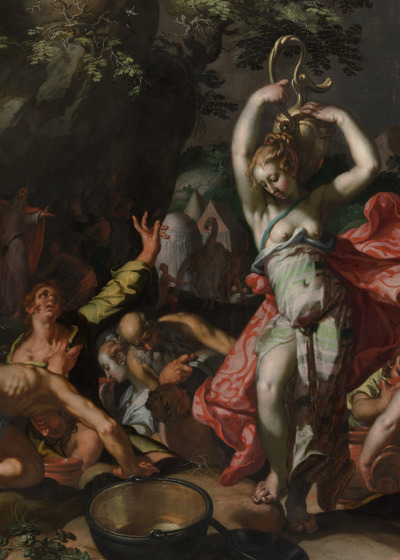 Type : appel à contribution.
The newly established series Gouden Eeuw. New Perspectives on Dutch Seventeenth-Century Art at Brepols Publishers invites proposals for the publication of manuscripts on subjects related to the visual arts in the Dutch Republic.
We are particularly interested in original, innovative and critical approaches and methodologies that reconsider deeply ingrained ideas about Dutch art. The volumes have an attractive design and large format and include high-quality colour images. Monographs as well as collective works will be considered and all major European languages (German, English, French, Italian, Dutch, Spanish) are welcome. Proposals will be evaluated by the editorial board and submitted manuscripts will undergo double-blind peer review. Open access publication is possible if additional funding is provided by the author.
Please contact chief editor Jan Blanc (jan.blanc@unige.ch) for additional information or to express your interest and receive the proposal form.
ABOUT THE SERIES
This peer-reviewed series explores different theoretical, practical and historical dimensions of the arts produced in the United Provinces between the end of the sixteenth and the beginning of the eighteenth century. It examines a wide range of artists, artworks and topics in the seventeenth-century Dutch history of art, offering new and original perspectives to the study of the Dutch "Golden Age" and promoting critical dialogue by applying different questions and methods from art history, the humanities and social sciences. Conceived as a forum for ongoing research and open to early career and established scholars alike, this series hosts both collective works around a central theme as well as monographs that shed new light on the histories and cultural productions of seventeenth-century Dutch art.
So far, three volumes have been published:
– Vol. 1: Dutch Golden Age(s): The Shaping of a Cultural Community, ed. Jan Blanc (2021)
– Vol. 2: Questioning Pictorial Genres in Dutch Seventeenth-Century Art: Definitions, Artistic Practices, Market & Society, ed. Marije Osnabrugge (2021)
– Vol. 3: New Perspectives on Abraham Bloemaert and his Workshop, ed. Léonie Marquaille (2022)
A fourth volume, "The Envy of Some, the Fear of Others, and the Wonder of all their Neighbours": Seventeenth-Century Foreign Insights on Dutch Art, is currently in progress, under the supervision of Angela Jager, Susanne Bartels and Lucie Rochard.
MORE INFORMATION
See the publisher's website of the series for more information regarding members of the scientific advisory and editorial boards and author guidelines: https://www.brepols.net/series/GOUDEN
---